So yesterday afternoon my car developed what seemed like a misfire and was running loud and rough. I said what the hell and decided to get a set of those Belden 700230 wires from Napa (Thanks casper!). They're nice wires, but it's the most awfully mismatched set I've ever seen. I'm lucky the 1 and 6 wires even reached they were so short. Probably should have taken them back, but the guy said they were the last set and it didn't bother me that much. They seemed to fix the problem at first, but it came back shortly after. Oh well, it's a nice new set.
I drove probably 60+ miles yesterday running extremely rough and underpowered. I told myself months ago that I'd be getting to the 4.0 head swap and a slight engine overhaul this winter since I have everything ready to go, so I decided that I would start immediately upon getting home. I drove to my mom's storage shed to dig for parts, got what I needed and headed home. That was the scariest drive yet in the sense that it was the first time I truly didn't think the car would get me there, but IT DID. The engine was popping and ticking and squealing very loudly and I was losing power, but it still sent me along at 45mph and pulled me up the steep driveway reluctantly.
Here it is being torn down in the crowded garage: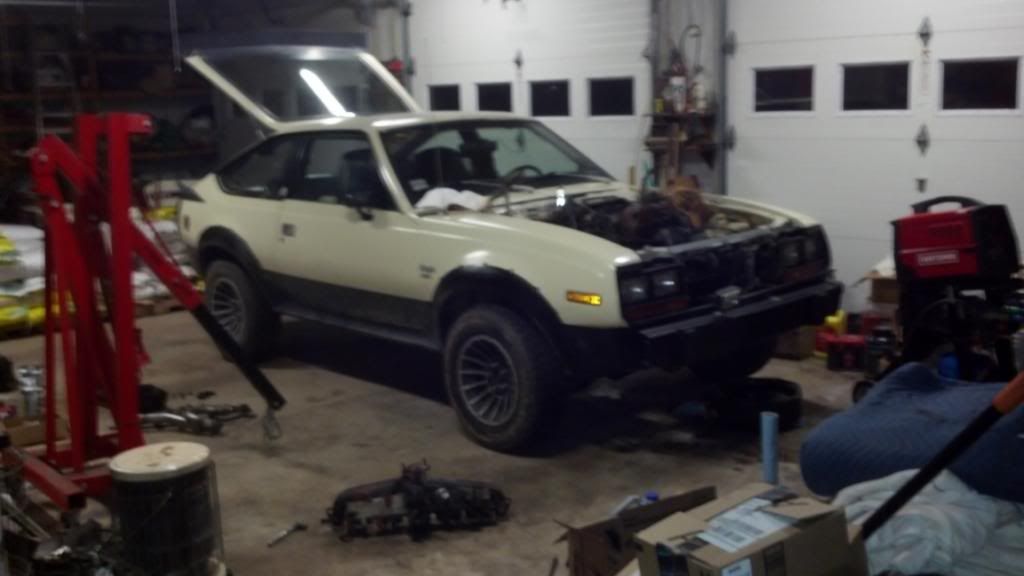 Still haven't seen the cylinders, but I can't believe I got 12,000 miles out of it since I bought the car. I found a big crack in the exhaust manifold, several of the rockers had a lot of play in them, the intake valves were gummed up, and everything under the valve cover was horribly dirty. That, and I already know the timing chain has a lot of slack.
Here you can see the crack that went all the way through to the inside of the manifold
Gummed up intake valves. The intake manifold looked surprisingly clean inside though.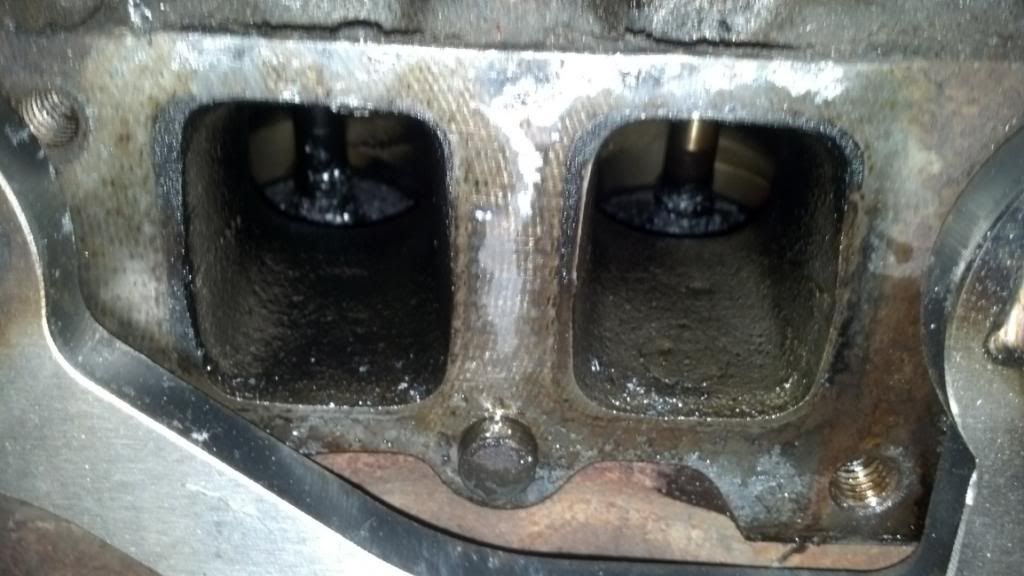 I have until the 19th of January to finish this, when I go back to school. Not working at the moment, so this is about all I'll be doing until then. I'm still trying to decide how far I want to go with the rebuild, but I need to see what the cylinders look like first. I will update this post as it progresses.