Cross post from Eagles Nest, Updates will follow in tandem.
I stopped driving the SX/4 shortly after the rear spring popped through the floor. This was patched but other areas of rust concerned me enough to pull it from the road and place it in storage. College, jobs, a lack of time, space, tooling and skill have kept me from me finishing this project. Now I may be ready.
Its time to get the old bird back on the road again.
As it sits right now: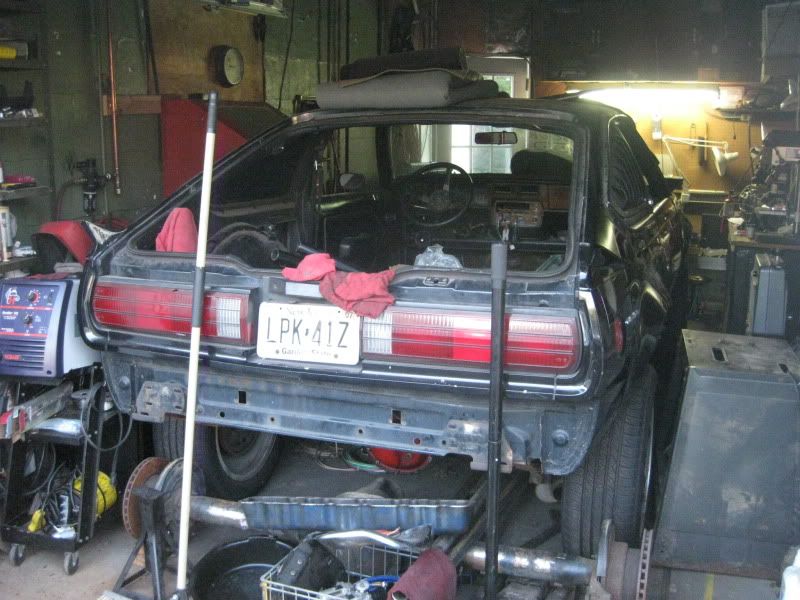 -------------------------------------------
Sheet metal parts donor: a 1979 Spirit
(Don't mind the blocking, we were switching trailers)
-------------------------------------------
Some interesting comparisons between the SX/4 and Spirit body:
SX/4
Spirit
inside:
differences in the transmission tunnel

Rear (under):
differences in bump stop, stamping and seat belt location

Engine Bay:
difference in wiper motor mount and fire wall stamping (holes just right of trans tunnel)  

Inside Rear
same

Inside Side:
differences in rear floor stamping, specifically seat belt mounts and trans tunnel (see rear under)

Rear Wheel Well
differences being added reinforcement

------------------------------------------
Video!!!
I'm no cinematographer but I'll try to keep the videos short and somewhat entertaining.
First one is up on youtube, I'll be getting into some techniques on sheet metal replacement and hopefully getting some timelapse of the build while its at
FranksKitchens.org
(my studio space). Currently both bodies are stripped and ready for some intense metal work so I've got a lot of catching up to do on posts. Until then here's EP1:  
AMC Eagle Build: Ep1: Joe vs The Hornets
http://youtu.be/KfTRDrVkLVA
------------------------------------------
The body is almost done
Photo updates coming [s]today[/s] [s]tonight[/s] Now
Stripped and ready to transport (12/14/12):
Bringing into the studio (12/15/12):
1st area to fix, Passenger side frame rail and Battery Tray
Doesn't look too bad...
Cut the rust out
Attempted using Evapo-Rust,
It was way too cold, didn't sit long enough, and the pump eventually died.
Despite all of this it worked fairly well
Weld thru Primer to coat the seams
Formed some 14ga to replace the rusted pc, drilled holes for the plug welds and test fit
Clampity clamp
Weld it in. Mig for plugs, Tig for seam
Then onto the battery tray
Old tray:
Patching the one in "better shape" (it really wasn't)
Test fit
Looks good
weld, weld, weld, grind flush and...
Next step replacing the drivers side frame rail and floor:
------------------------------------------------------
Almost forgot this little spot on the Passenger side
Cut out
14ga
*Missing photos* Think my camera died or I left for the night or something. This was finished though
FRAME RAIL!
I looked over the mostly rust free 1979 4cyl Spirit body and thought about what a nice car it probably was at one time. Then thought about how rare a 4cyl spirit probably is, never being at a show, especially in Metallic green. That's when I squeezed down the trigger of my plasma torch, shot an inch long spark of blue light out the tip, and proceeded to cut through everything that was holding that amazingly rust free frame rail into the shell.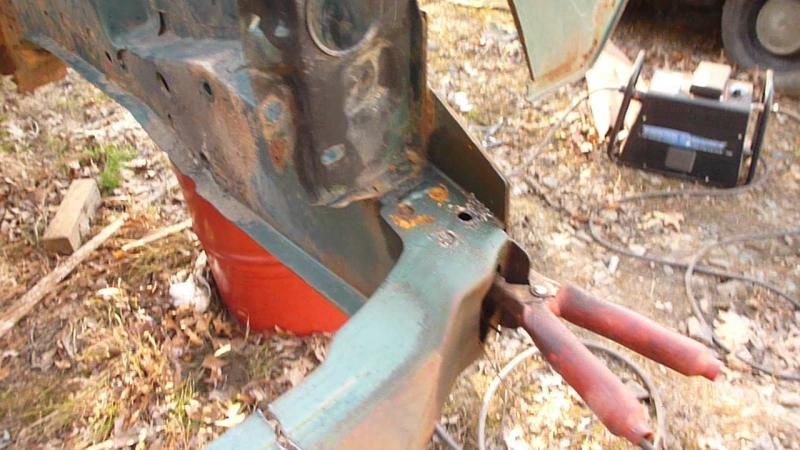 Success!
Back to the studio with this:
The Eagles floor and rail was pretty bad, probably caused by a combo of leaking brake and clutch lines through out the years, or at least since I've owned it.
During the mock-up I found out the frame rails are different
so I went on to patch the replacement floor panel.
Removing the floor from a... ummm... nother Eagle that may have been in better shape. (If you noticed 2 different black battery trays that was some foreshadowing)
87 spot welds, I remember each one well
Some 19ga, Torch welding this in so I can planish it smooth
Done. Just going to set that off to the side for a bit

Back to the Frame Rail

Decided the best way to make it work was use the back half of the Spirit rail and inner support but cut it forward of the shock tower. Then weld in the front of the Eagles.  Add a weld nut inside where the Eagle's Front cross member bolts up, add a weld nut that goes to some mystery part and drill a hole/add a weld nut for the manual trans cross member. This took a while to think up how to approach so here goes:
Lining up the Eagle sheet metal
Better view:
Clamps!
Test fit #1 (it wouldn't stay in place)
Test fit #2 (used the old "conduit in an alignment hole" trick)
More clamps!
Even more clamps!
and... a few more on top of that
Lots of welding and grinding and call it good enough.
[img width=775 height=435]http://img.photobucket.com/albums/v295/cyclops231/SX-4/P1010198.jpg[/img]
Next.... Onto the [s]Floors![/s] Rockers! <- getting ahead of myself with the floor even though it was mostly cut out while patching the rail. Someone told me when you're doing rust repair do inner rocker, outer rocker, then floor. It'll save having to go back over work.
----------------------------------------------
Driver side rocker
Cut out the rust and took a look inside, the rest of it looks to be in pretty good shape so I'll only be patching the front.
Total area that's getting patched. Inner rocker is already done here.
*Missing photos*

Onto the Floor and Trans tunnel!
Comparison between AX-15 (top) and T-5 (bottom)
note the difference in length, the AX-15 is about 3" longer
Comparison between an NP-242 (top) and NP-129 (bottom)
Fitting the floor and shifter, The transfer case sits a little further back. I cut out the floor to see how much room was needed, flipped a section over to lower the seat 1" (planning for some future stuff), ended up shaving town the transfer care a little to get more clearance. I'll be using the Novark transfer case cable or making something similar.
Test fitting the seat
Seat clearance
The new floor, Back angled section is completely new and moved back 1", seat area was lowered 1", Cherokee z-gate shifter added and drivers floor patched in.
--------------------------------------------------
Back to build progress!
Passenger Side Rockers
A little re-patching on this side, cutting out the old patch
New pc, did this in two sections since I didn't have a rocker section big enough to cover the entire area.
Rear rocker
O, hello rust! So this is where you were hiding.
Cleaned up a little
Little more cleaning up
Then I realized its all just layered rust and Everything must go!
New tabs
patched in the back rocker
*Missing photos*
Then patched in the front
Onto the Floor!

Cleared out everything with rust on it
New front floor section
Realized I forgot to replace the broken/rusted out strut rod bolt. Split the floor, ground out the pc, then welded in the new one.
Fully Welded in
Welded in the other section
Moving onto lowering the passenger seat
This little patch:
------------------------------------------------
Onto subframe connectors and the rear floor!
Stumbled across this which may go in:
But First:
Tape it out
Then mochup of the connector
Steel sides in place
Weld Weld Weld and fin...
This is what the underside looks like: